An app aimed at helping people to spot fake profiles on social media sites – Think Before You Link – has been launched by the Centre for the Protection of National Infrastructure (CPNI), which is part of MI5.
Announcing the launch, the CPNI and the Cabinet Office described how "over 10,000 UK nationals" were affected by the use of fake profiles "used by foreign spies and other malicious actors" in the last year, being "targeted on sites such as LinkedIn and Facebook."
While social media sites themselves do have policies and procedures in place to stop such practice – LinkedIn reportedly "stopped 11.6m fake accounts at registration" in the first half of 2021 – the UK government has seen it as necessary to introduce their own measures to help protect the public and the UK's interests.
The app is also aimed at those working in and with government. Civil servants are "attractive targets" for malicious activity, with a high risk of receiving "fake offers of lucrative consultancy work if they connect with unknown users."
What's in the Think Before You Link app?
The app, which is part of a wider campaign of the same name, was developed with the help of behavioural scientists and includes a profile reviewer and functionality to report suspicious activity.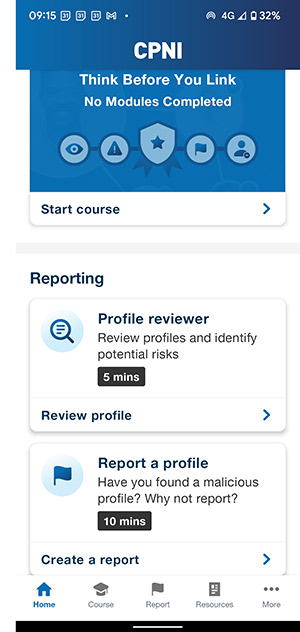 Alongside the profile reviewer and reporting functionality, the Think Before You Link app has a focus on education to raise awareness of potential threats. On first opening the app, users are met with an interactive course that promises to "teach you how to Recognise, Realise, Report and Remove malicious profiles linked to you online." Completion of the course (which takes around 60-90 minutes) results in the user receiving a certificate which can be shared with, for example, their employer's cyber security team.
According to new research from the University of Portsmouth, this educational element is needed. Carried out by Professor Mark Button and Dr David Shepherd of the university's School of Criminology and Criminal Justice, the research surveyed 1,000 UK professionals who use either LinkedIn or Facebook for professional networking. The research shows that, while many LinkedIn and Facebook users are aware of fake profiles, only 64% of them linked this practice with 'economic espionage' and more than half of users "could not name a state that posts fake profiles."
Director General of MI5 Ken McCallum said: "MI5 has seen over 10,000 disguised approaches on professional networking sites from foreign spies… Foreign spies are actively working to build relationships with those working in government, high-tech business and in academia."
Clearly, the use of fake profiles is viewed as a threat to national security.
The government's Lead Minister for Cyber Security, Chancellor of the Duchy of Lancaster Steve Barclay said: "The online threat via social media is increasing… It is therefore crucial that we do all we can to protect ourselves and our information… This new app will be an important tool in that endeavour."
The CPNI Think Before You Link app is available to download from Google Play for Android devices and the App Store for Applie devices.
Cyber security advice, support and training from ESA Risk
For advice and support on a wide range of cyber security issues, please contact us at advice@esarisk.com, on +44 (0)843 515 8686 or via our contact form.
Improve your cyber security awareness and ability to respond to threats with one of our cyber security online courses across levels 1 to 5, including accredited courses and short courses.